What? Who is Mrs. Betty and where is Cropper's Island - you ask? Whoever you want her to be and where ever you are! These are two AWESOME tee shirt designs that are the co-production of my LSS owner and one of her designers. These shirts were revealed for the first time July 15 at the Scrapbook Celebration convention in our city. They were a hit and some of the sizes sold out the first day. Mrs. Betty's is a teal with "Mrs. Betty" in red. Cropper's Island is brown with a blue tropical beach and cute flower. (**Click on the pics to see larger)
Here are the shirts together. (Maraya, the store owner, me in the Mrs. Betty tee, and Emery the graphic designer).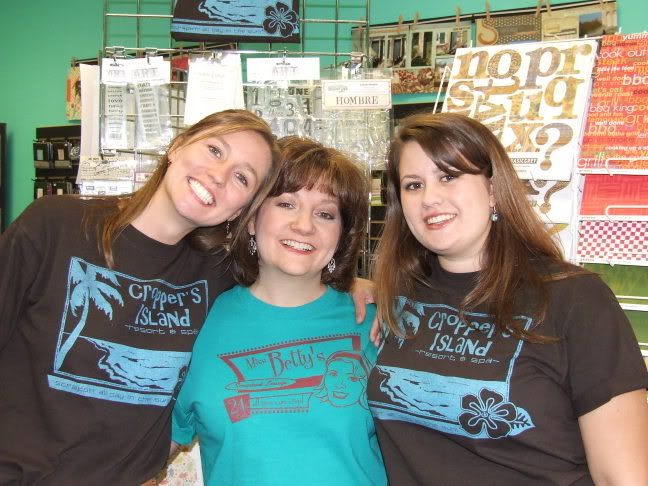 Could these shirts BE any more fun!!?? Terri, Emery and Maraya are modeling Cropper's Island tees (see, you just can't help but have fun in these tees). I'd LOVE to hear your feedback on these. They just MAY pop up at a convention near you - so please - feedback is appreciated! (pssstt.. if you leave lots of raving comments - I may can persuade her to let me rak one!)
Oh - and for those that want one NOW - you'll have to contact
The Scrap Shack
. Tell her where you saw them so she'll know the power of the Peas really does work! New designs are coming.... I'll show pics as soon as they are ready!